Extremely Fast installation
The RoadPod® VM was designed to be the simplest and fastest traffic sensor to install on sealed roads or cycleways. Simply apply a specialised adhesive pad to the road surface, heat and place theRoadPod VM on top.
This method allows installation to occur quickly, with little to no traffic management or cutting/grinding of the road surface and ensures longevity of each RoadPod® VM on the road.
Data Securely Transmitted to the Cloud
Each sensor captures time-stamped vehicle information independently, transmitting it to a central gateway that combines the information and securely sends the raw data to the Cloud.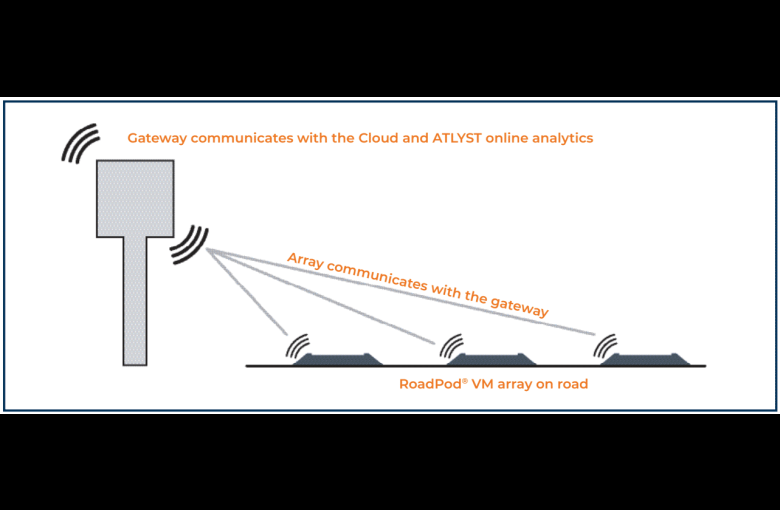 General
Time resolution
Better than 1ms
Memory
Up to 4 million axles
Hardware
Running temperature
-10°C to 70°C
Operating humidity
0 to 95%
Additional
MTE Software
Not included
Traffic survey field kit
Not necessary
Field pod remote access
Required
Included
RoadPod® VM
RoadPod® VT User Manual
Required add ons
Traffic survey field kit
ATLYST®
The following results are from an analysis in the City of Fremantle, at a test site on Ord Street, a main city arterial 2-lane road with heavy traffic and moderate speeds.
RoadPod® VP
RoadPod® VL
RoadPod® VM
Los siguientes resultados son de un análisis en la ciudad de Fremantle, prueba realizada en la calle Ord Street, una arterial principal de 2 carriles de la ciudad con tráfico pesado y velocidades moderadas.
RoadPod® VP
RoadPod® VL
RoadPod® VM
Les résultats suivants proviennent d'une analyse effectuée dans la ville de Fremantle, sur un site d'essai situé sur Ord Street, une artère principale de la ville, à deux voies, où la circulation est dense et les vitesses modérées.
RoadPod® VP
RoadPod® VL
RoadPod® VM